Ashes, video-performance for dOCUMENTA 2012 Kassel, Germany
performance by Miriam Wuttke
video by Antonio Manfredi
soundwork by Veronica Mota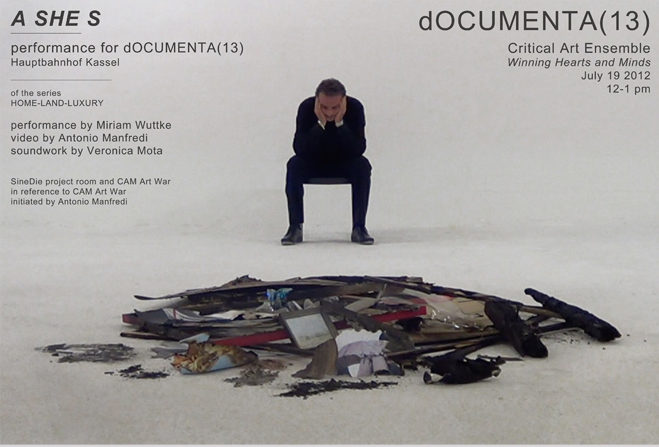 The performance site, a small house in a remote industrial area, is located behind Kassel Hauptbahnhof/main station, which is one of the dOCUMENTA(13) sites this year 2012.
The performance will start at 12 pm sharp and will last exactly 60 minutes. It will feature Miriam Wuttke as performer in an installation inside as well as outside the house and will merge pieces of her series "HOME-LAND-LUXURY" with the concept developed for dOCUMENTA(13). This will include a 60 minute auto-video of Antonio Manfredi, Italian artist and contemporary art museum director, who initiated CAM Art War and who was involved closely in the development of the piece. The soundwork is created by Berlin based sound artist Veronica Mota who will compose her 60 minute piece according to performative movement and gesture and the images of the video of Antonio Manfredi. Visitors can enter the house as well as watch the performance from the outside and are very much welcome to become the recipients of a token which will be given to them by the end of the 60 minutes.
Antonio Manfredi, artist, museum director and initiator of CAM Art War, is sitting in his desolate museum in the outskirts of Napoli, on a simple chair, his back to an empty white wall, in front of him a pile of ashes and burned pieces of art. Crumbled paint, melted canvas, lost images. No words. Why did he start the action of burning paintings of his museum collection? He calls it a war. His weapon, the fire, is the catalyst of destruction, the pile of ashes is his material and manifest statement. The image of fire devouring an appraised piece of contemporary artwork triggers questions and bewilderment in all of us, creators and recipients. On the first sight, it seems to be a harsh method creating nothing but destruction and public arouse. Giving it a deeper thought it reflects what we are willing to do anyway bowing to the dictatorship of the market: Burning our contents. Burning our history. Burning our individual heritage, our cultural richness, our pride, our souls. Finally, the significant implication of catalysing the process of decomposition is the idea behind the material object. It becomes a common value in the moment it is documented, communicated and openly discussed.
In this way, the ashes as the material left overs, reprersenting the idea of the common value behind the act of destruction, become a fertilizer and a symbol of change and reconstruction.
Torpeding the common hierarchy and coherences between victim and perpetrator, the act becomes a sabotage of a conservative and closed system.
The human and individual aspect of this act is the process of transgression, a gesture of movement against an isolated settledness, crossing a border to overcome a nonexistent fear which is imposed upon us.