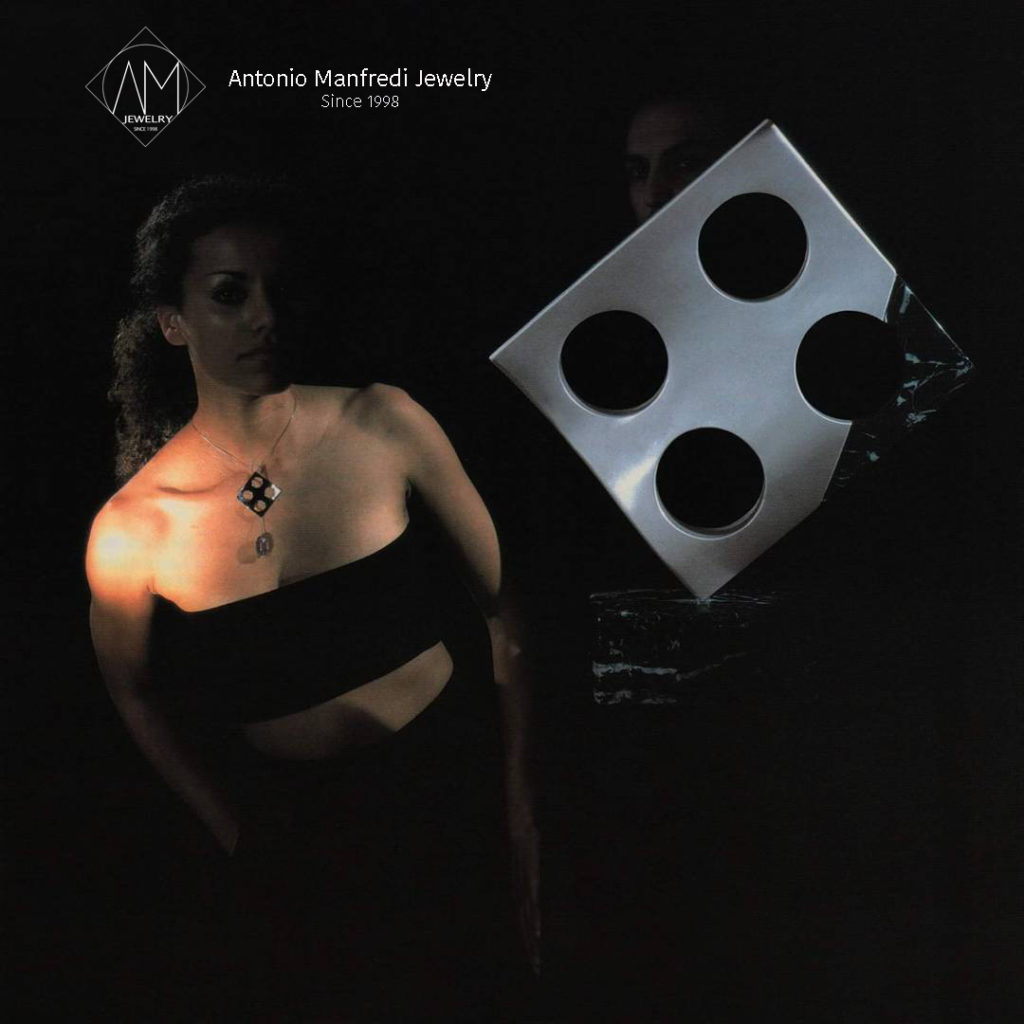 Antonio Manfredi Jewelry designs, handmade contemporary jewelry made from high-quality materials at affordable prices.  AM jewellery designs are in the same line of expression of the artist as his paintings and sculptures inspired by the space power, expressing the inspiration in geometrical figures.
The jewelry designs are realized handmade in fine silver with purity 950, gold with purity 750 and natural gemstones handmade cutted for each design. Each piece of jewelry is unique, signed and dated by the artist.
All jewels are equipped with gift box and can be sent around the world.
Founded in 1998 and headquartered in Napoli, Italy.
I gioielli di Antonio Manfredi sono gioielli contemporanei realizzati completamente a mano e con materiali di alta qualità a prezzi accessibili. I gioielli di Antonio Manfredi sono sulla stessa linea di espressione dei dipinti e delle sculture dell'artista ispirati alla potenza delle geometrie spaziali.
I gioielli sono realizzati a mano in argento fine con purezza 950, oro con purezza 750 e gemme naturali tagliate a mano per ogni gioiello realizzato. Ogni gioiello è un pezzo unico, firmato e datato dall'artista.
Tutti i gioielli sono forniti di astuccio regalo e possono essere inviati in tutto il mondo.
AM Jewelry e stata fondata nel 1998 a Napoli, Italia.
Planets collection, 2018
Milan series

Naples series
Cosmos Gold Collection, 1998/1999
Universe Gold Collection, 2000

YOUR PURCHASE ORDER
Send an email to artmanfredi@hotmail.com with the order number, a copy of the receipt of payment + 10 € for shipping, your postal address and you will receive the package up to home with a certificate of guarantee in a gift box. Each work is unique and signed and dated on the back.
HOW TO PAY
• Pay Pal artmanfredi@hotmail.com
• Bank transfer on the account n° 050001000/00109400 to: INTERNATIONAL CONTEMPORARY ART CENTER c/o Bank Prossima SPA Filiale di Milano IBAN CODE: IT47 U033 5901 6001 0000 0109 400 BIC CODE: BCITITMX (for SEPA Zone) BIC CODE: BCITITMM for further credit to BCITITMX (for not SEPA Zone).
• WESTERN UNION Antonio Manfredi_Naples, Italy sending the MTCN code in artmanfredi@hotmail.com
Send a copy of payment receipt to artmanfredi@hotmail.com
IL TUO ORDINE D'ACQUISTO
Invia una email a artmanfredi@hotmail.com con il numero di ordine, la copia della ricevuta di pagamento + 10 € per la spedizione, il tuo indirizzo postale e riceverai il pacco fino a casa con certificato di garanzia in un astuccio regalo. Ogni opera è unica e firmata e datata sul retro.
MODALITA' DI PAGAMENTO
• Pay Pal artmanfredi@hotmail.com
• BONIFICO BANCARIO: Conto Corrente Bancario n ° 050001000/00109400
Intestato a: INTERNATIONAL CONTEMPORARY ART CENTER
c / o l'Istituto di credito: Banca Prossima SPA Filiale di Milano
CODICE IBAN: IT47 U033 5901 6001 0000 0109 400
CODICE BIC: BCITITMX (per la zona SEPA)
CODICE BIC: BCITITMM per ulteriore credito a BCITITMX (per non SEPA Zone)
• WESTERN UNION (WU) Antonio Manfredi, Casoria_Napoli Italia (invia il numero di transazione MTCN all'indirizzo email artmanfredi@hotmail.com)
Invia fotocopia ricevuta di pagamento a artmanfredi@hotmail.com